Kniha měsíce
Pokoj (Emma Donoghue)
Úžasný příběh – drsný, syrový a zároveň citlivě napsaný z pohledu malého dítěte. Konkrétní děj nebudu popisovat, protože zde je velmi těžké neprozradit až moc. Emma Donoghue mě ke knize dokáže opravdu přilepit. Knihy psané z pohledu dítěte mi vždy přišly fascinující a tuto jsem přečetla během 24 hodin. Z některých situací jde mráz po zádech a dětský pohled to jen umocňuje. U této knihy doporučuji nic si o ní nezjišťovat dopředu a nečíst ani anotaci. Já jsem jako první viděla film, o kterém jsem nic netušila a přiznám se, že mě dostal. U knihy jsem pak měla tedy docela spoiler ale i tak jsem musela číst dál a dál.
Populárně naučná
Bez dneška by zítra nebylo včera (Yves Bossart)
Tuto filozoficky zaměřenou knihu velmi doporučuji. Obsahuje celou řadu zajímavých otázek a vývoj odpovědí v průběhu času. Dotýká se i témat jako existence boha, umělá inteligence, vnímání barev, krásy, nebo času. Je to trochu náročnější čtení k zamyšlení, ale autor se vyjadřuje lidsky a srozumitelně. Já jsem z této knihy byla velmi nadšená. Není to ale nic pro odborníky, spíše pro laiky, kteří se ve filozofii moc neorientují. Mohu vypíchnout, že autor se nedrží klasických dějin filozofie, ale postupuje po konkrétních otázkách a díky tomu se kniha výborně čte.
Singletasking – Udělejte víc – jedno po druhém (Devora Zack)
Bohužel toto bylo pro mě šlápnutí vedle. V knize o efektivní práci se autorka trochu opakuje. Myšlenka knihy: nejvíc práce uděláte, pokud se soustředíte, nenecháváte se vyrušit a nepřepínáte neustále mezi úkoly. Pokud vás v práci někdo vyrušujte, dohodněte se s ním na vhodnější termín, kdy se mu budete moci plně věnovat a neodbíhat. Tak, a právě jste ušetřili za nákup této knihy. Není zač.
Boss Babiš (Jaroslav Kmenta)
Řadím také mezi populárně naučné, nicméně jde o investigativní žurnalistiku. Jaroslav Kmenta odvedl velmi dobrou práci a dočkáme se mnoha zajímavých odhalení na téma Andrej Babiš. Nicméně nejde o velmi záživné čtení, prostě fakta a fakta. Pokud se chcete dozvědět o minulosti tohoto politika více, tak tato kniha je dobrá volba.
Když Hitler bral kokain a Stalin vyloupil banku (Giles Milton)
Historie velmi zábavnou formou. Autor posbíral různé zajímavé historky v průběhu dějin, někdy skutečně neuvěřitelné. Některé z příběhů už jsou známější a pro někoho profláklé, ale i tak myslím, že každý najde alespoň něco nového.
Tvůj mozek ví víc, než si myslíš: Nejnovější vědecké poznatky o mozku (Niels Birbaumer)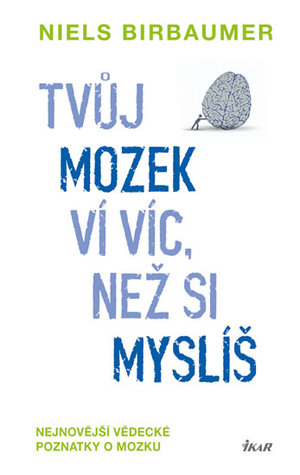 Výborná kniha na téma plasticity mozku. Autor se věnuje práci s problémy jako ADHD, demence, autismus, syndrom uzamčení a další pomocí neurofeedbacku. Kniha je velmi čtivá, bohužel na konci chybí odkazy na konkrétní studie. Anotace ke knize je malinko zavádějící, protože působí tak, že si z těchto nemocí můžeme vyloženě pomoci sami, přestože kniha se týká laboratorních pokusů, které proběhly.
Bitcoin a jiné kryptopeníze budoucnosti (Dominik Stroukal, Jan Skalický)
Dobrá kniha pro základní orientaci v kryptoměnách. Nicméně, obzvlášť pro lidi nepohybující se v IT, jsou některé pasáže hůř pochopitelné. Autoři se snaží stručně dovysvětlit složitější problematiku, avšak to úplně není možné a některé použité pojmy nejsou dostatečně dovysvětleny. Možná by bylo lepší, do některých detailů raději vůbec nezabíhat.
Učte se anglicky s vtipem (Jindřich Vobořil)
Krátká kniha, která je k dostání pro elektronické čtečky, obsahuje sbírku anglických vtipů s překladem, nebo vysvětlenými slovíčky pro výuku angličtiny. Pro začátečníky je to skvělý a nenásilný způsob jak si zlepšit angličtinu.
Rychlý oddech
Odposlechnuto v Praze
Jednoduše sbírka vtipných hlášek odposlechnutých v Praze vydaná v knižní podobě.  Skvělé čtení třeba do MHD. Chválím za pěknou sazbu. Škoda, že kniha neobsahuje více těchto hlášek, nevadilo by mi, kdyby to bylo víc nahuštěné, takto jsem měla za hodinku dočteno.